WordPress SEO Framework Admin Title Settings helps you to configure and understand the admin title settings found on the admin sidebar.
Last Updated: September 4, 2016
In this post you will learn more about the plugins admin Title settings. This area controls the title when you are creating post and pages. It is very important that you decide how you are going to display the titles in your website or blog. It should be relatively easy to configure the title settings using this simple plugin. With the color coded legend, it provides an easy to follow trend by understanding what each color represents. Remember search engines are very particular and can become very picky about website SEO titles.
WordPress SEO Framework Admin Title Settings Steps
Step 1 ) The following image Title Settings allows you to set up the following settings.
General
Additions
Prefixes
You can also select the Document Title Separator.
Step 2 ) The following image Additions allows you to set up the following options.
Left:
Right:
Remove Blogname from title
Note: The following option will either increase or decrease the number of characters added to the title. This will also show when you click on Posts -> All Posts whiled logged in as admin. You will see the color displayed against each title.
Step 3 ) The following image Prefixes allows you to set up the following option.
Remove Prefixes from titles = in the following image you can see Category: as the title prefix for archives.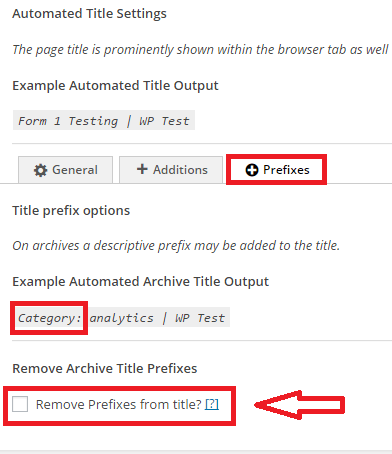 Note: Always make sure you click on Save Settings button.
The settings above are very important and you should dedicate enough time to make sure that all your webpage titles follow Google SEO standards.
Click on the following URL Admin Description Settings to learn more.
I will be adding more information soon. So keep coming back for the latest. If you have any questions please let me know.
Enjoy.
The SEO Framework Plugin Tutorial List: