WordPress iThemes Security Tutorial (Formerly known as Better WP Security) shows you the most simple way to secure your WordPress website or blog.
Last Updated: January 13, 2018
Latest News: I have updated the changelog.
iTheme Security 6.8.0 changelog
New Feature: Introduces a scheduling framework for handling events. Cron is now used by default, and will switch to using an alternate scheduling system if it detects an error. To disable this detection set ITSEC_DISABLE_CRON_TEST in your wp-config.php file.
Important: The ITSEC_FILE_CHECK_CRON and ITSEC_BACKUP_CRON constants have been deprecated. Use ITSEC_USE_CRON instead.
Enhancement: Preserve notification settings when the responsible module is deactivated.
Bug Fix: Process 404 lockouts on the 'wp' hook to prevent a headers have already been sent warning message.
Bug Fix: Ensure Hide Backend emails are properly sent when activating Hide Backend before saving the Notification Center for the first time.
Bug Fix: Prevent warning from being issued on new installs by allowing previous settings to be preserved if they exist.
Bug Fix: Better handle WP_Error objects in mail errors that occurred before updating to first patch release.
Bug Fix: A non static method was being called statically.
Bug Fix: Fix occasional duplicate backups and file scans.
Bug Fix: Fixed issue where scheduled events could repeat on sites that do not properly support WordPress's cron system.
Bug Fix: Reactivating Away Mode now replaces the active file if you had previously removed it.
Bug Fix: Ensure lockouts take effect immediately, even on systems where changes to server configuration files do not take effect immediately.
These are very simple instructions that will help you prevent hackers and make your website more secure. This is something that some are not even aware of. There is a world on the Internet that people around the world need to be aware of. Online security is a must and cannot be left behind or else as some have found out the hard way your website is likely to be hacked, compromised and spammed. These will cause search engines like Google to band your website from their database.
iThemes Security Tutorials:
Better WP Security Tutorial
Plugin you need.
WordPress iThemes Security Tutorial Steps
Important: Before you begin create a backup just in case something goes wrong.
Step 1 ) The following image Security shows you the new menu structure. You can click on the following links to start setting up the plugin.
Dashboard
Settings
Advanced
Backups
Logs
Help
Go Pro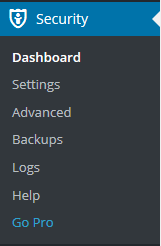 Step 1 ) After you install the plugin you will see the following Welcome! screen before you even see the Dashboard.
================================
Important First Steps
Back up your site
We recommend making a database backup before you get started securing your site.
Make a backup button
Allow File Updates
Many of the functions of this plugin require editing your wp-config.php or .htaccess files. Would you like to allow us to safely update these files for you automatically?
Allow File Updates button
Secure Your Site
Use the button below to enable default settings. This feature will enable all settings that cannot conflict with other plugins or themes.
One-Click Secure button
Help Us Improve
iThemes Security would like to collect anonymous data about features you use to help improve this plugin. Absolutely no information that can identify you will be collected.
Yes, I'd like to help button
================================
Step 2 ) The following image iThemes Security – Dashboard shows you the new menu. It also allows you to click on Temporarily Whitelist my IP button.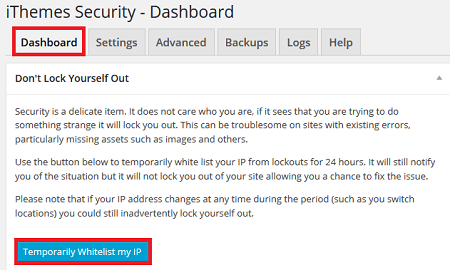 Dashboard
Step 3 ) The Dashboard provides a large range of settings and check list for you to start securing your website.
Security Status
All
High
Medium
Low
Completed
When you click on each tab above it will take you to the corresponding area for you to check and Fix it.
High Priority
These are items that should be secured immediately.
Medium Priority
These are items that should be secured if possible however they are not critical to the overall security of your site.
Low Priority
These are items that should be secured if, and only if, your plugins or theme do not conflict with their use.
Completed
These are items that you have successfully secured.
================================
You will also see the following information.
WordPress Files Permissions
System Information
Active Lockouts
Rewrite Rules
wp-config.php Rules
Click on the following link better-wp-security-tutorial-part-2.
If you have any questions please let me know. I keep updating my tutorials from time to time so keep coming back for the latest information.
Enjoy.