MailChimp Plugin For WordPress tutorial will show you how to add subscription option to your website using this very simple but powerful plugin.
Last Updated: June 16, 2017
Latest News: I have updated the changelog.
Everyone knows that attracting customers and more visitors to your website requires a few more additions to your websites like a subscription form. For example many will use subscription forms, newsletters, publicity, advertisements and more to attract customers and visitors to their website. A service that many know in the Internet market is MailChimp.
MailChimp is a well known service that allows you to manage all your subscriptions from one central point. It also allows you to create different forms for different occasions. Create different lists based on the services that you might be offering plus more.
This very powerful plugin will make your subscription to MailChimp go smoothly without having to know too much about coding and JavaScript. Everything is done automatically by configuring a few settings in the plugin.

MailChimp For WordPress Version 4.1.4 Changelog
Fixes
Some form specific JS events were not firing due to incorrect event names.
Registration form integration now works with WooCommerce registration form.
Notice that asks for a plugin review would re-appear after dismissing it.
================================
What You Need:
MailChimp Plugin For WordPress Tutorials
Plugin For WordPress
MailChimp Plugin For WordPress Steps
Step 1 ) Navigate to MailChimp for WP to view the menu. See images below.
This plugin menu is small and easy to set up.
The Admin Menu:
MailChimp
Forms
Intergrations
Step 2 ) Once you click on MailChimp link in the admin menu as illustrated in the image above you will need to set up your MailChimp API.  Click on Save Changes button once you are finished.
Important: You must make sure your API is set up correctly or else you will see error messages on your screen.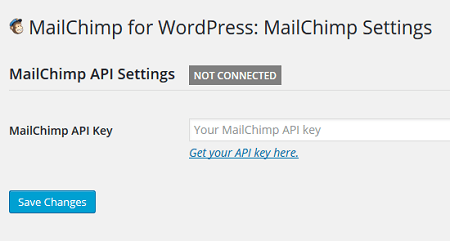 Step 3 ) In the latest version there is a Usage Tracking checkbox you can enable if you wish to allow the developer track how the plugin is performing on your website.
Step 4 ) Once you have established a connection between your website and MailChimp, if you have any list added to MailChimp they will show up in the plugin.
Click on the following URL Form Settings to learn more.
I will be updating this post from time to time. So keep coming back for more.
Enjoy.