Google Authenticator Security WordPress tutorial show you how to create a second level security for your WordPress website.
Last Updated: May 16, 2017
Note: Some are reporting issues with this plugin. I can confirm that this plugins works very well. The first action you should take to troubleshoot any problem is to check if you have any compatibility issues between plugins and your theme. I have this plugin running with WordPress 4.7.4 and I have also tested this plugin with 4.8 Beta 1 and it works.

Latest News: I have updated the details in the documentation.

Google Authenticator 0.48 changelog.
Security fix / compatability with WordPress 4.5
If you are serious about your website security then follow these instructions. They are very simple and easy to implement.
What You Need.
A Smart phone, iPhone or a Google account to use an app through the browser
Google Authenticator App is the app I am currently using. This App can be found through your smart phone or iTunes.
(Optional) You might like to read my other tutorial WordPress Two Factor Authentication Core Files
Latest News: Itunes has released a new app version 2.0.1 which fixes an issue with the previous version 2.0
What's New in Version 2.0.1
Restores entries that were not displayed due to a bug in version 2.0. Restored entries are placed at the bottom of the list.
Support for retina display and iPhone 5.
Improved user interface.
Minor bug fixes.
Improved accessibility support.
Google Authenticator Security WordPress Steps
Step 1 ) Install the plugin and activate it. See image below.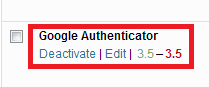 Step 2 ) Go to your user profile. See image below.
Remember: Every person that has an account in your website must also carry out these steps to activate the plugin and add the two step level security to their login.  If they don't carry out these steps, then when they log into the admin panel, they will not have to add the Google Authenticator Code because it is not yet activated on their profile. Thus reducing the security to their account and your website and making their account more vulnerable including your website.


Step 3 ) Select which options you require while enabling Google Authenticator.
I have selected the following,  Active, Relaxed mode to give me time to enter the code on my website, I entered a unique Description, copied the Secret code to my local hard disk and clicked on Show/Hide QR code. See images below.
Important: The activation is performed only once. After that the mobile app through your mobile phone or google account will provide you with your Google Authenticator Code which is used when login into the website admin panel.
Notice: I have not selected to Enable an App password because it will decrease your overall login security.

This is the QR code you need to scan only once with your iphone or smart phone as long as you have a valid QR scanner. I use Google Authenticator App from the iphone App store.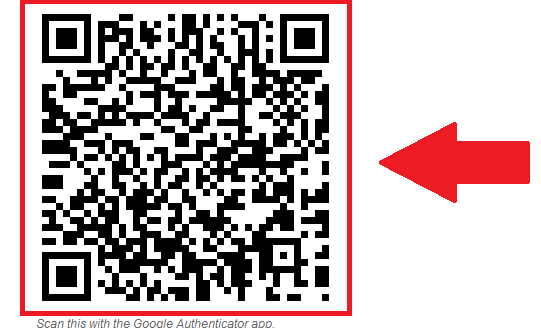 Make sure you click on Update Profile to save your new settings.

Step 4 ) Log out from your admin login and view the new security layer added to your login screen. See images below.
If everything goes well you will see a second level of security on your login screen.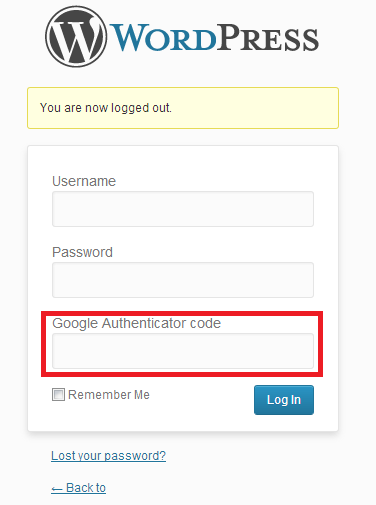 Google Authenticator Test Login
Step 5 ) To log back into your admin panel you need to enter your usual Username, Password and now you will also have to enter your Google Authenticator code, which is provided by the app you installed in your smart phone. See image below.
Information: Please note the Google Authenticator Code you see in the image below is just an example of the code you will enter when login in.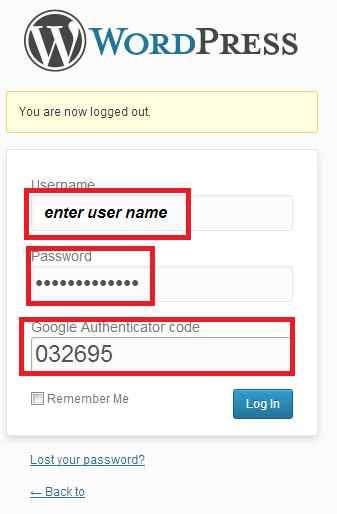 Step 6 ) This plugin also works in a Multisite installation. Make sure you network activate the plugin and then log in as the user. This will allow you to activate the plugin for the current user logged in.
That is how simple it is to set up a Two Level Authentication Security for your WordPress website.
Troubleshooting
Q1 ) What if you forget the code or security code, lost your phone, accidentally deleted the App from your mobile phone?
Follow these instructions.
Ftp into your server, I use Filezilla for windows. Locate your plugin directory and delete or rename the folder. See image below.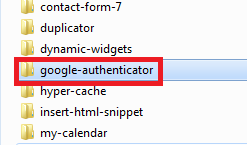 Now check your login again and see if the extra security level has been removed. See image below.
===================================
Q2 ) If you enter a space on your description or you use a tilde, a character with a stress on top or accent the QR will not work.
===================================
Q3 ) How do I show Google Authenticator to subscribed users only who have enabled the security in their profile?
Answer: You can also installed the following plugin Google Authenticator Per User Prompt.
Q4 ) How do I hide Google Authenticator from settings from users?
Answer:  You can check every user's account profile. In their account profile you will see two options under Google Authentication Settings. Select Hide settings from user.
===================================
Alternative to Mobile Phone
Q5 ) If you don't have a smart phone you can use some Google Extensions. The following is one that has very good reviews the-qrcode-generator.
If everything goes well you should now have a two level security for your website.
If you have any questions please leave a message. I will be updating this tutorial from to time to time. So keep coming back for any latest updates.
Enjoy.
More Google Tutorials: