Edit Suffusion Translation Using Poedit tutorial will show you how to many any number of changes to your language file. In this tutorial we are going to make some changes to the es_ES.po file.
Last Updated: July 14, 2016
Information: Translating Suffusion theme only translate the front end. It does not translate the back end under "Suffusion Options". Some might not be aware of this information.

What you need:
Hint: Remember to keep saving all your changes.  
Hint: Click on any image to see a larger size image.
Step 1 ) Open Poedit, click on Open and locate your po file to edit. In this example I am going to edit es_ES.po. See image below.
Step 2 ) The es_ES.po file is open for editing. You can see many entries here. See image below.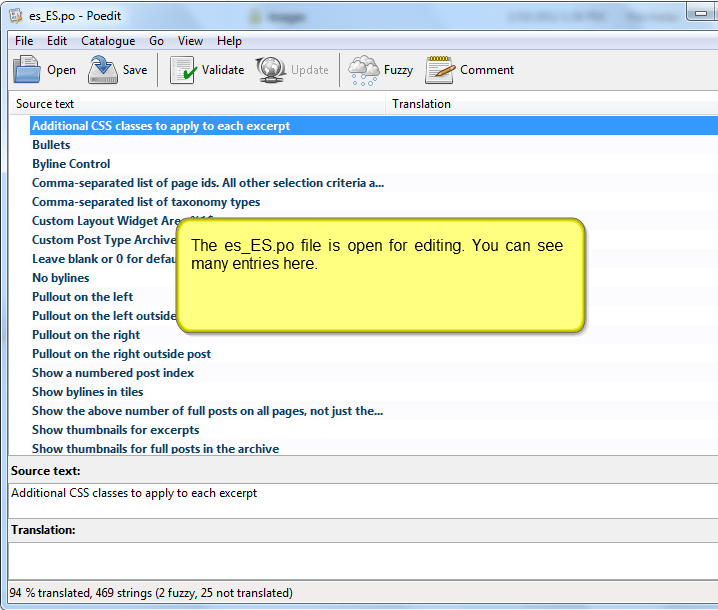 Step 3 ) Locate the Source text entry you wish to change and click on the source text entry to display below for editing.
I am going to edit Center. In this example I am going to change Centrar in the Translation: area. See image below.
Hint: Only change the Translation: entry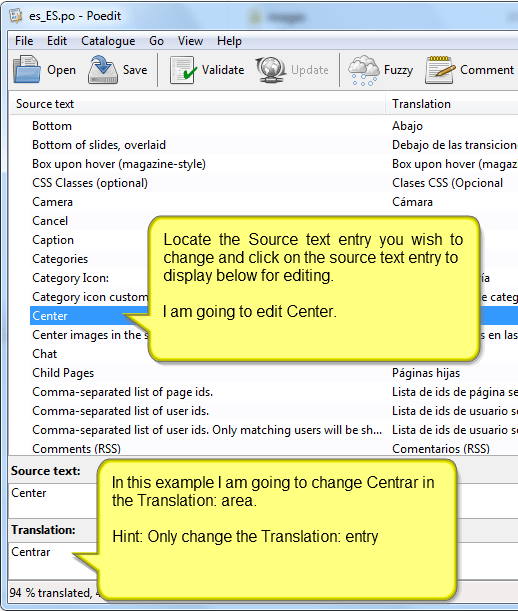 Step 4 ) I have changed the text to El Centro. Of course you can make any number of changes that suit your needs. This allows you to make your translation more personal. See image below.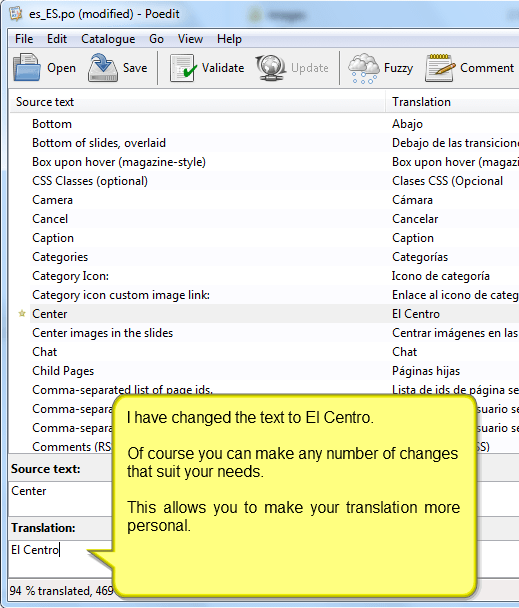 Step 5 ) Once you have completed all the changes, click on Save. See image below.
Step 6 ) After saving your changes, go back to the source "The location where you open the file to edit". You will have two files with updated entries, in my example the translated files are:
es_ES.mo
es_ES.po
The es_ES.mo file is generated automatically when you save the changes to your es_ES.po file. All you have to do now is copy the new edited files back to your server. Refresh your browser and you should see your new changes. See image below.
Very simple little tutorial. I keep updating this tutorial form time to time so come back soon to check the latest.
If you have any questions please let me know.
Enjoy
More suffusion tutorials: