The following Easy WP SMTP Plugin Settings tutorial shows you how to set up SMTP server in your site to easily send outgoing e-mails.
Last Updated: April 19, 2018
Latest News: I have added another link to the menu.
There are times that your server might not work well with your outgoing e-mails. That is when you need Easy WP SMTP plugin. This little but powerful plugin will help you get all your outgoing e-mails to their destination. This plugin will also help you to prevent your emails from going into the junk/spam folder of the recipients.
What You need:
Easy WP SMTP Tutorials:
Plugin Settings
Easy WP SMTP Plugin Settings
Step 1 ) Go to Settings -> Easy WP SMTP as illustrated in the following image to start setting up the plugin.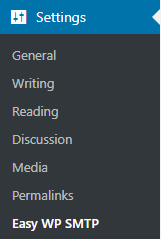 Step 2 ) The following image shows you the three settings tab in the plugin.
Easy WP SMTP Admin Settings Tabs
SMTP Settings
Additional Settings
Test Email

Step 3 ) The following image SMTP Configuration Settings allows you to setup and configure the following settings in the plugin.
SMTP Configuration Settings
From Email Address
From Name
Reply-To Email Address
SMTP Host
SMTP Server Settings
Step 4 ) The following image allows you to enable and set up the following options.
SMTP Server Settings
Type of Encryption
SMTP Port
SMTP Authentication
SMTP Username
SMTP Password
Click on Save Changes button once you are finish with your settings.
That is all you need to do to set up an SMTP server for the outgoing e-mails in your site.
I will be updating this post from time to time. So keep coming back for more.
Enjoy.