Last Updated: January 25, 2016
CataBlog WordPress Plugin allows you to create catalogs, create categories, create stores, organize images into galleries and more.
Latest News: I have added another link to the menu.
CataBlog is a very simple and easy to use WordPress Image plugin that allows you organize all your photos and or images. You can organize your images in various ways i.e. galleries and categories.
Think about it like this, you have a website about mobile phones. There are 100s of different models and all have 100s of different images or photos. How would you organize so many photos.
You could set up your images as follow:
Galleries = Mobile Phones
Categories = Samsung, Nokia and iPhone. Remember that each brand has many different models.
Another advantage of CataBlog is that it allows you to sell your products through PayPal. So now you have a plugin that organizes your photos or images and if you choose so you can also sell them.
CataBlog WordPress Plugin
Step 1 ) The following image CataBlog displays the admin menu structure.
Library
Add New
Galleries
Templates
Options
About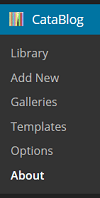 Step 2 ) Go to CataBlog -> Library allows you to view and or select from the following options. You an also Add new libraries, take bulk action to one or all categories. You can even view the libraries using the following Grid or List view. See image below.
Image
Title = The Title can be used as a sorting filter.
Description
Link
Price
Product Code
Categories
Order = The Order can be used as a sorting filter.
Date = The Date can be used as a sorting filter.

Step 3 ) Go to CataBlog -> Add New, it allows you to upload your images by selecting from the following options. See image below.
Select Images
Disable Flash upload = (Note: In some instances you might need to disable the flash upload because of conflicts, speed or browser issues).
Important: Remember the maximum upload file size is 128MB. Your maximum upload might be different. This is based on the following settings "PHP Max Upload Size: 128M"

Step 4 ) Go to CataBlog -> Galleries, it allows you to view and or select from the following options. It also provides extra information. See image below.
Gallery Sorting Fields
Title = The Title can be used as a sorting filter.
Description
Size
Shortcode
Date = The Date can be used a sorting filter.
The following image also displays three galleries. Each gallery has a unique shortcode for you to use.
Gallery shortcode example [catablog_gallery id="2806″ ].
Step 5 ) Go to CataBlog -> Templates, it shows you all the default templates created by the plugin when it was installed. It also allows you to create new templates. See image below.
default
single
archive
store
+ new
Click on Save Changes button
undo current changes
Important: If you need to make changes try not to change the default templates. It is always best to add and configure a new template with your changes.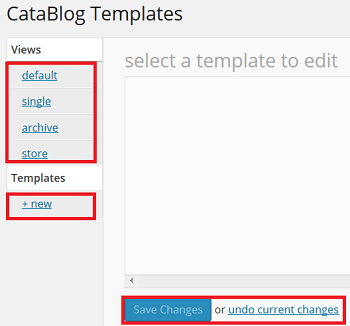 Step 6 ) Go to CataBlog -> Options, it allows you to set up and manage the following options. Each option below controls a different part of the plugin. It is important to know and understand what each option does or else you will run into issues while using the plugin. See image below.
Thumbnails
LightBox
Public
Navigation
Title Link
Description
Import
Export
Systems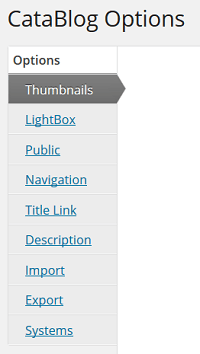 Step 7 ) Go to CataBlog -> About, please read the following to learn more.
(The following instructions / information is quoted from the About tab in the plugin)
CataBlog is written by Zachary Segal in his spare time. It is a cataloging tool for WordPress that allows you to easily manage a list of items with automatically generated thumbnail images. Use of CataBlog is completely free, even commercial sites for now, all that I ask is that you rate the plugin at the WordPress Plugin Repository.
CSS Modifications: You may always override CataBlog's CSS settings to create custom looks. If you make a catablog.css file in your active theme's directory it will be automatically loaded and applied. This makes it easy to prepare your custom theme for CataBlog integration and will also protect your customization for future version to come.
The Server Statistics lets you know more about your server specifications. This information might come in handy if you need to troubleshoot some issues.
Click on Catablog Add New Library to continue.
If you have any questions please let me know.
Enjoy
For more CataBlog tutorials check the following Link