WordPress ClassiPress Theme Online Selling Classified Ads
WordPress ClassiPress Theme Online Selling Classified Ads talks about a very powerful ads selling theme. You will also find a list of tutorials to help you get started.
Last Updated: May 13, 2018
Latest News: I have added another link to the menu.
ClassiPress theme is a very powerful ads theme for WordPress. It has many features that can help you get started with online selling of classified ads.
This page has a list of tutorials and information about ClassiPress theme. These tutorials will help you get started, manage and customize the theme for your site. They are written for beginners and advance users.
Note: The information and list of tutorials in this page will slowly grow.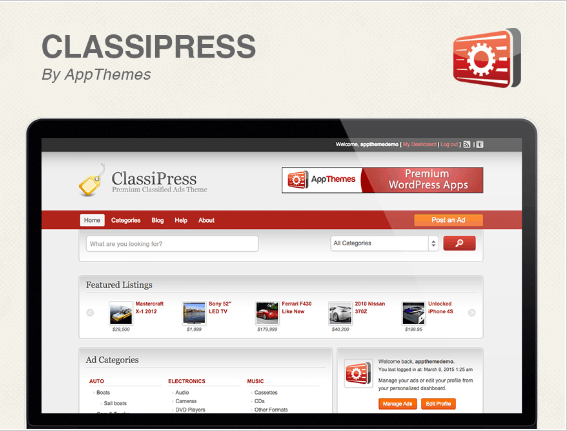 WordPress ClassiPress Theme Online Selling Classified Ads
ClassiPress theme changelog Version 3.6.1 (Released on November 21, 2017). To learn more about vantage version history click on the following URL classipress version history.
Fixes
Max image size in back-end media uploader.
Search Index of array meta values.
reCaptcha issues with 'raw curl' (eg. like on localhost).
reCaptcha issues with proxy – raw recaptcha lib wasn't using the wp proxy onfig.
The metabox help icon position.
WordPress compatibility issue in APP_View_Page::_register_new_templates().
Category walker warning.
Hide empty categories doesn't work for Parents, only for children.
Changes
Raised minimal supported WordPress version to 4.7.4, added version warning message.
Added dismissible option for updater plugin nag.
Allow to use empty post_author and post_date in importer rows so it will use actual (current) values instead of empty ones.
==================================
What You Need
ClassiPress AppThemes (Affiliated link)
AppTheme Updater plugin (The link will be provided to you once you install the theme.)
ClassiPress Theme Tutorials
If you have any questions please send me an email via my contact form.
Enjoy.