Last Updated: September 04, 2014

Add Javascript to WordPress Post or Page tutorial teaches you how to add javascripts and other codes to WordPress post and pages.
Revision Update: I have modified some wording and changed a few images.

If you install Ultimate TinyMCE (It has now chaged to WP Edit. It only works with WordPress 3.9 and above) which is maintained on a regular basis and supported very well, it provides some nifty tools for you to add many different videos and other codes.
I have tested adding JavaScript and other codes using the following versions of WordPress 3.9.2. With the following operating system Windows 7 and WP Edit 2.2.
The browsers tested:
IE 11, IE 10 and IE 9

FireFox 28
Google Chrome 34.0.1847.116 m
Seamonkey 2.25
Remember: Always have the latest version of the browser installed. Make sure you clear your cache regularly. Make sure Java is updated.
Important: When adding javascript to your post or page, if you change between the Text and Visual editor you might loose the code. Or you might have a conflict with another javascript added via your theme in the header or footer. It is important to remember this point. Also as a golden rule as well for better performance you should be adding the code to your header or footer and then calling the function from your page or post. 
Add Javascript to WordPress Post or Page Steps
1 ) The following images shows you a very simple javascript code added to a post.
document.write = which will write the text to your post. The text that it will write is Hello World!.
Always edit or add the code using the Text editor. See image below.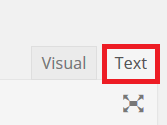 In the following image you can see the javascript code added.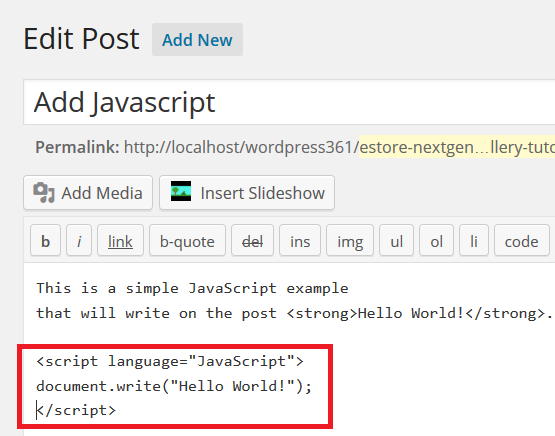 2 ) The following image displays what you will see if you select the Visual editor. This is what you typed in the Text editor. This time you have switched to the Visual editor to see the outcome of your code. You can see that the javascript code is not displayed.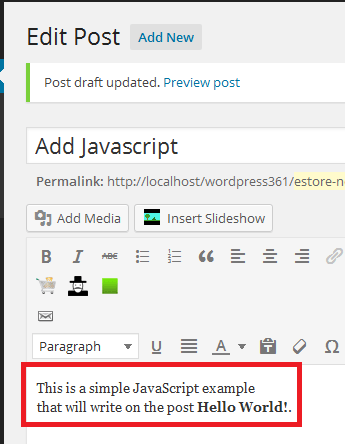 3 ) The following image you have switched back to the Text  editor. This time you will notice some code added by WordPress, // <![CDATA[ at the beginning of the script and // ]]> at the end of the script.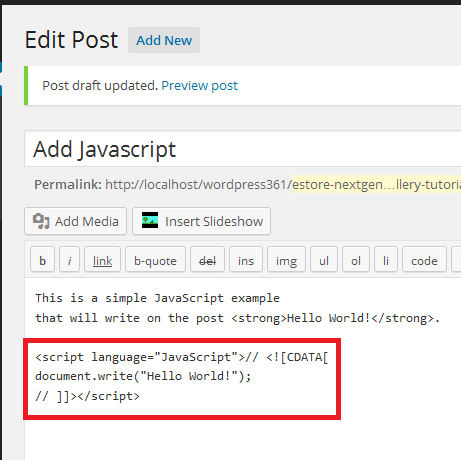 4 ) The following image shows you the end result viewed from the front of your website. You can see Hello World!. That is how simple it is to add some javascript code.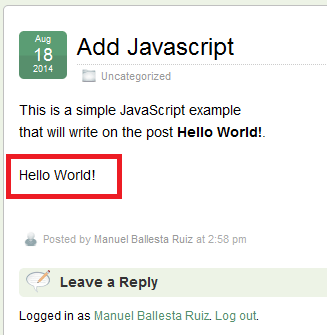 Add iframe To WordPress Post or Page
1 ) Copy and paste the iframe code you selected to your post or page through the Text editor by clicking on HTML tab. The editor will place the iframe in between < p > < /p > tag. See image below.

Using Ultimate TinyMCE.
2 ) The following instructions are for those who want to use the plugin to add an iframe. Select the following icon and add your code, url and other settings you prefer. See images below.
Remember: You need to set up Utlimate TinyMCE and add all the tools you want to include in your wysiwyg editor especially the one used in this tutorial.
Javascript Plugins I Recommend
Insert Html Snippet Add HTML, CSS and javascript code to your pages and posts easily using shortcodes.
RawHtml Lets you use raw HTML or any other code in your posts. You can also disable smart quotes and other automatic formatting on a per-post basis.
In regards to Raw HTML has two versions, the free and Pro. The free version only works with the HTML editor, it is not not compatible with WYSIWYG editor. To use with the WYSIWYG editor you need to purchase the Pro version.
Important: As always one of my golden rules create a backup before you try any new plugin just in case it causes other issues.
I hope this helps you and puts you on the right track. If you need any help just leave a comment or send me an e-mail.
Come back for more information as I keep updating this post.
Enjoy
by