Last Updated: November 27, 2014
Better WP Security Tutorial shows you the most simple way to secure your WordPress website or blog. These are very simple instructions that will help you prevent hacker and make your site more secure.
Latest News: I have changed the URL to reflect the new name iTheme Security.
This tutorial is broken in two parts.
Better WP Security Tutorial
Plugin you need.
Before you begin please have a backup plugin installed and create a backup just in case something goes wrong when setting up this powerful plugin.
Lets begin and please follow my instructions.
Instructions to set up Better WP Security.
1 ) After you install the plugin you will see the following Welcome! screen before you even see the Dashboard. See images below.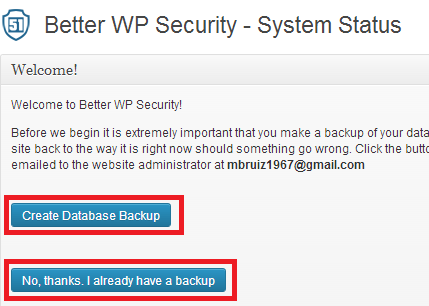 For the Dashboard tab I always click on Secure My Site From Basic Attacks. This option is less intrusive and it will not break your site. See image below.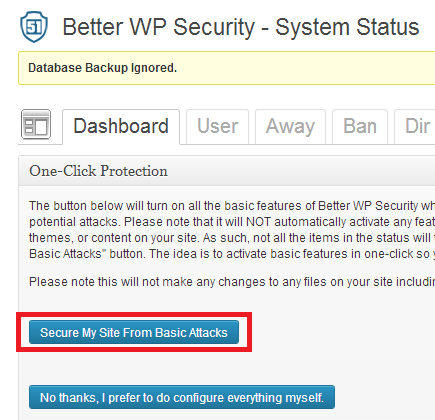 2 ) The Dashboard provides a colour coded security option. It is very straight forward and easy to follow. It even has a Click here to fix link for you to adjust the security level. There is even a legend, which lets you know what each colour means. I want to bring your attention to System Status 5 and 6. These two points are very important to setup from the beginning of your WordPress installation. Hackers always look for vulnerable points and a user with and ID 1 and a database with a prefix wp_ must be changed. See image below.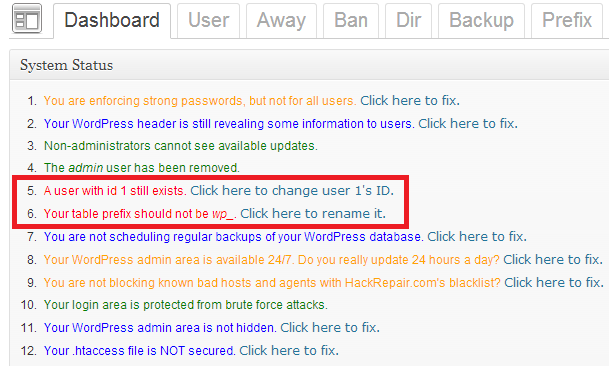 You will also notice that it provides a system information for your perusal. This comes in handy so you know whether or not your system is up to date and if the plugin is compatible with your current server setup.
3 )  The User tab allows you to change the admin name and user ID. See image below.
4 ) The Away tab is self explanatory. I don't set this one up. However you can if you need too. See image below.
5 ) The Ban tab allows you to control who to ban from your website. This is a very powerful security option. I set this option first by selecting Add Host and Agent Blacklist. Later on I keep adding IP address from intruders, potential hackers and spam. Always remember to save your changes. See images below.
6 ) The Dir tab lets you change the name of your wp-content folder. I don't set up this option because it can cause other issues with plugins and images etc, however you might want to change the name yourself. Be warn, do not change your name unless it is a freshly installed WordPress website. I think the red warning on this option should be more than clear to you. See image below.
7 ) The Backup tab will allow you to backup your database and allow you to schedule automatic backups. I don't set up this option because I already have a backup plugin that does all of this. You might want to set it up yourself. See image below.
8 ) The Prefix tab, one that you should change from the beginning. This is very important. I mentioned this in step 2 above.
This concludes the first part of this plugin tutorial. Click on the following link better-wp-security-tutorial-part-2.
I hope this is helping you. Remember I keep updating my tutorials so keep coming back for the latest.
Enjoy