Windows 10 Personalized Themes Settings shows you how to make changes to your computer desktop. There are times when you might like to add a personal theme.
Last Updated: June 23, 2017
Most of the time the default theme set up by Windows 10 is more than enough. However there are times that you might like to add a bit of your touch by adding a personal photo from a family member or from nature, animals and more. Windows 10 allows you to make these changes in a very simple 3 to 4 step process. If you are familiar with Windows XP, Vista, 7 and or 8.1 then this process will be familiar to you.
In this post you will learn just that, in a few steps you will change your laptop or desktop theme to what ever you like.
Windows 10 Tutorials:
Personalized Themes Settings
Windows 10 Personalized Themes Settings Steps
Step 1 ) Right click on your desktop with your mouse. You will see a menu like the one displayed in the image below. Once you see the menu click on Personalize.
Note: You can also click on Start -> Settings -> Personalize to view the menu below.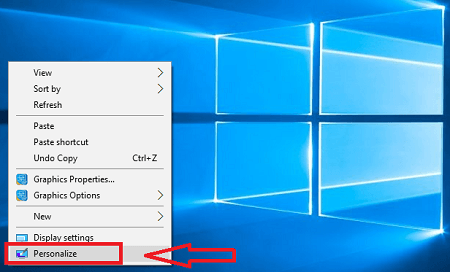 Step 2 ) Go to Themes -> Themes Settings to personalized your desktop. See image below.
Step 3 ) The following image illustrates the different themes you can select for your desktop.
My Themes = This will be displayed if you have installed a custom theme.
Windows Default Themes = These themes come with Windows when you install the operating system. There is a

Get more themes online

link for you to get more themes from Microsoft.
Installed Themes
High Contrast Themes = These are very ugly themes, I don't recommend them. However if you have few resources like limited Ram then this would improve your Windows performance.
Important: After you upgrade your laptop or desktop from Windows 7 or 8 and you notice issues with all browsers like Google Chrome, Firefox, Seamonkey then use the steps above to change your theme to one of Windows 10 default themes. I am sure this will improve your browser speed dramatically. There are other troubleshooting tips but that is for another tutorial.
As you can see from the steps above, it is very simple to make changes.
Click on the following URL Coming Soon to learn more.
I will be updating this tutorial in the future. So keep coming for the latest updates.
If you have any questions please let me know.
Enjoy.