Windows 10 Final Release post looks into the new Windows 10 version out and downloaded thousands of times.
Last Updated: May 23, 2017
Latest News: I have updated the images and information as per the latest windows updates.
Microsoft, Encarta, MSN, and Windows are either registered trademarks or trademarks of Microsoft Corporation in the United States and/or other countries. Click on the following URL General Microsoft Trademark to learn more.

Microsoft has released the latest service pack. Please click on the following URL Windows 10 Version 1703 to learn more.
Windows 10 is smart, fast and easy to use. I can tell you straight away that I am very pleased with the outcome. I am sure many will agree with me. I also know that this is a new version and it will have bugs and issues. But don't worry the patches will start rolling out very quickly. After all most of you will be downloading the free full legitimate version in accordance to Microsoft upgrade to Windows 10 Terms.
Windows 10 Tutorials:
Windows 10 Final Release
Step 1 ) The following image shows you the new start up menu. Everyone was complaining ever since Microsoft released Windows 8. Later on Microsoft released Windows 8.1 which improves a lot in regards to the start up menu but still it did not feel right for those used to Windows 7, 2000 and XP.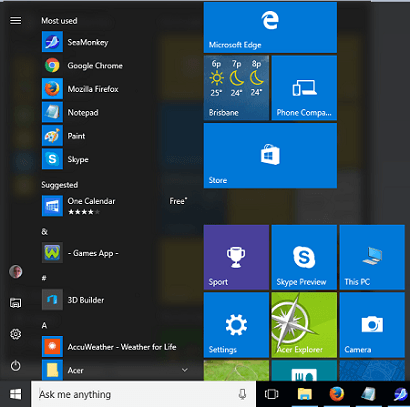 Step 2 ) The following image shows you the new File Explorer. It is fast and easy to use. Simply click on File Explorer to view the most Frequent used or visited files or folders in your system.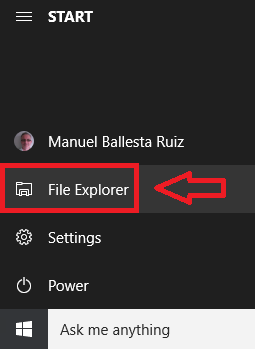 Step 3 ) The following image shows you the new All Apps display. In a previous build you had to click on All Apps, but now all apps are simply displayed in the menu. All you have to do is scroll up and down. This is much simpler and better for the user.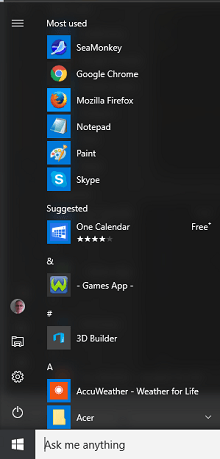 In all the performance and speed is incredible even for the pre release version that has a long way to go. If you are a Windows user and supporter I encourage you to download Windows 10 Pre Release and play around with the settings.
Click on the following URL Settings & Security to continue with the next tutorial.
I will be adding more information in regards to this pre-release version.
If you have any questions please let me know.
Enjoy.