Google App Password Error Email Client SeaMonkey post will show you how to fix and repair your e-mail client when you receive an error message.
Last Updated: April 24, 2016
In this tutorial you will learn how to fix and repair the login error message you see when using your SeaMonkey e-mail client to access your Google Gmail account.
This might happen for various reasons and you might be wondering why, however Google security it second to none so seeing this message is positive in many ways. It is letting you know that Google is not happy with your current client set up and needs to verify that it is you who is allowing for this client to have access to your Gmail Google account.
Google App Password Error Email Client SeaMonkey Steps
Step 1 ) The following image shows you the Enter your password message. This message is simply letting you know that you need to add the password to allow SeaMonkey e-mail client access your Gmail account.
You enter your password and click on OK button. Make sure you also select Use Password Manager to remember this password.

Step 2 ) However after you enter your password as illustrated above you receive the following message illustrated in the following image below.
To find out what is going on and how to fix the error message simply click on the following URL https://support.google.com/accounts/answer/185833.
Once you are there you will learn more how to recover from this error message. When you visit the above URL click on the following header How to generate an App password. This will show you what to do and where you need to login to generate a 16 character code in yellow.
Step 3 ) Once you are logged in you will see the following image. Here you can check what you currently have and REVOKE any app or device you are no longer using. This is very important and it is something that you should do regularly just to keep up to date with all your apps, devices and third party clients.
Then select your app and select your device. Click on Generate button to generate your 16 character key.
Note: Remember you will use many apps, computers, smartphones, laptops etc. These devices require permission to access your Google Gmail account. And from time to time you will either sell your device or purchase a new device. These devices need to be removed or if it is a new one added to your Google account security area. 
Step 4 ) Once you select your app and your new device from the image above you will be given a password key in yellow as illustrated in the image below.
You need to copy and paste that key into your SeaMonkey screen as illustrated in Step 1 ) above.
Note: You must also copy and paste the code to the outgoing SMTP server settings in SeaMonkey. The fastest way to achieve this is by replying to an e-mail in your inbox. If you don't carry out this step you will keep on receiving a similar message as in Step 1 ) above and you will not be able to reply to any e-mails.
Once you have completed this step click on Done button. You only need to do this once and you don't have to memorize or write down this key.
That is all you need to do to get SeaMonkey to access your Gmail account again.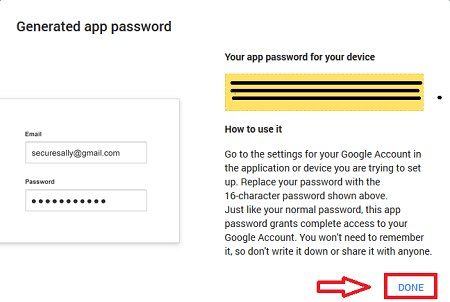 That is all you need to do to fix the error message and have SeaMonkey and Gmail communicate with each other again.
Note: This process is similar with any other e-mail client you might be using to access your Gmail account.
I hope this helps you solve your problem.
If you have any questions please let me know.
Enjoy.
More Google Tutorials: